Spring is here and the warm weather has begun. Many people love spring for the bright colors, warm weather, and the ability to wear more comfortable and/or outing clothes. Spring also comes with many fashion releases and trends that set the rest of the year's fashion sensations.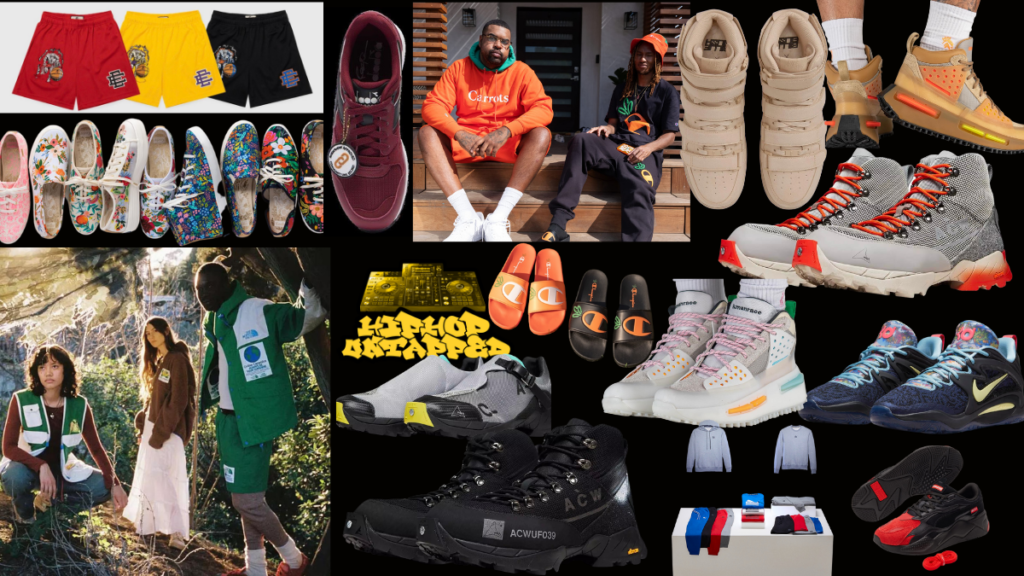 Here are some fashion releases you won't want to miss out on this 2022 spring.
TMC (The Marathon Continues) x Puma: With 2 additional categories, LL and Essentials, Puma extends its cooperation with The Marathon Clothing. The LL collection will feature a white velour tracksuit inspired by Nipsey Hussle and Groovey Lew's bespoke tracksuit from the "Racks in the Middle" video. The Essentials collection includes hoodies and T-shirts in a range of shades with minor branding. Which can be purchased for $50 to $140, at any Puma NYC. As well as their website puma.com, and themarathonclothing.com
Pharrell x Adidas Hu NMD S1 RYAT: The Pharrell Williams and Adidas NMD S1 RYAT were designed to help users acclimate to new lifestyles while also focusing on the challenges of everyday life. Each feature and detail in this revised release, on the other hand, provides multiple functions. A TPU outsole and toe cap have been incorporated into the sneaker top, which is made up of a variety of premium suede and leather overlays for a distinct touch of usability. The recent design also includes a BOOST midsole, which provides a soft bottom cushioning sensation, as well as a Trefoil-shaped hold on the outsole, proving that contrasts do attract. They will be released on adidas.com and various shops starting this Saturday, April 23, 2022.
Nike x Kevin Durant– KD15 Sneaker: The newest sneaker has a full-length Zoom Air Strobel cushioning system, outer wrapping for foot protection, and a reduced-layer top that grips the foot for movement. Kevin Durant features 3D-printed technology on the heel as well. They will be priced at 160, for those who are interested in purchasing.
A-Cold-Wall* x ROA: Do you intend to go hiking this season? ROA has teamed with Samuel Ross' A-Cold-Wall* on a combination of Andreas and Minaar hiking boots. ACW logo imprints, robust Rubber soles, and fluorescent details are all present on both pairs. Both styles are functional and are equipped with all-weather coverage. You can purchase these new releases at a-cold-wall.com and roa-hiking.com for between $430 to $595.
Billie Eilish x Nike Air Force 1 "Mushroom": Billie Eilish is increasing her shoe partnerships portfolio with a major collaboration with the Swoosh, coming off of her fantastic performance over the weekend for Coachella. She provides the Air Force 1 with a unique design with a monochromatic "Mushroom" scheme and eco-friendly products. To appeal to her distinct and large design sense, additional straps are applied across the base. She will also be releasing some hoodies, tees, and pants as well. For further information, go to SNKRS.
Raekwon & Diadora X Foot Locker, Inc – The Diadora N9002 Philly: The Diadora N9002 Philly is the 2nd "Community Linx" merchandise from Raekwon, Diadora, and Foot Locker, Inc. The Diadora N9002 Philly is a homage to Philadelphia, and it includes various colorways & a customized box featuring local Philly landmarks. The current model is available in maroon, black, and grey, and features a leather upper with a rubber outsole for maximum protection and traction. Raekwon's signature is featured on the heel, with a 3M twist. The Philly- inspired Diadora N9002 is available in men's sizes exclusively at Foot Locker and Champs Sports as of Thursday, April 21st, 2022, for $120.
Anwar carrots x Champion: Carrots is expected to drop their collaboration with Champion. The feature's highlight products are orange and purple Reverse Weave sweatshirts with a Carrots script logo printed across the chest and green hoods. Sweatpants, sweat-shorts, T-shirts, slides, slippers, and bucket hats are among the other items. The Champion "C" emblem is also being transformed into a carrot in a customized logo. Prices of the items range from $25 to $80.
Peace Collective x McDonald: Peace Collective, a Toronto-based clothing company, has linked up with McDonald's for a throwback merch collaboration. The selection will be distributed through May 11th, until quantities last, in honor of the restaurant's charitable effort McHappy Day. The limited-edition apparel includes tees, sweatshirts, hoodies, and more featuring popular McDonaldland characters. The Peace Collective is well recognized for its "Toronto vs. Everybody" tees. McHappy Day is expected to be celebrated on May 11 to raise funds for Ronald McDonald House Charities (RMHC) and other local children's charitable organizations.
Eric Emanuel x Warren Lotas: The spring season is only a few weeks long. Eric Emanuel has collaborated with Warren Lotas on some new versions of his iconic mesh shorts to help welcome the warm temperatures approaching. The traditional "EE" logo on the left leg and one of Warren Lotas' distinctive skeleton drawings on the right leg are expected to be released in red, yellow, and black hues. You can purchase these items at any Eric Emanuel stores, their websites ericemanuel.com, and warrenlotas.com
The North Face X Online Ceramics: The North Face and Online Ceramics collaborated on the latest collection that was inspired by a global celebration. The North Face's newly established Re-Grind platform, which allows factory floor leftovers to be recycled, was used to create some of the newest collection items. The design's prices range from $50 to $330, with pieces going on sale on April 29 at certain North Face locations and through the website for XPLR Pass members.
Rifle Paper Co. X Keds: Keds is set to debut a modern sports sneaker that pays homage to the brand's historic styles and classic styles. The vintage Renaissance shoe, which pays homage to Keds' rich racing tradition, is back in fashion. The Renaissance has a classic woven Keds logo, vintage mesh, and a leatherette toe overlay, and is based on the original fit of the brand's original coach that was introduced over 30 years ago. Only 300 pieces will be distributed worldwide, and they are only expected to be purchased exclusively at Bodega. The price is only $35 for those interested. Keds will also be collaborating with Rifle Paper Co.While Rifle Paper Co. is best known for its whimsical, hand-painted floral patterns, the business has expanded its vibrant prints to include home decor, technology accessories, textiles, and footwear. These unique Rifle Paper Co. x Keds shoes are for everyone, such as the partnership's first-ever set of rainboots, with 13 new designs to choose from. The new collection includes six new Rifle Paper Co. originals.
Be sure to follow @hiphopuntapped for the Latest Hip Hop News , Entertainment , Fashion , & Sports.