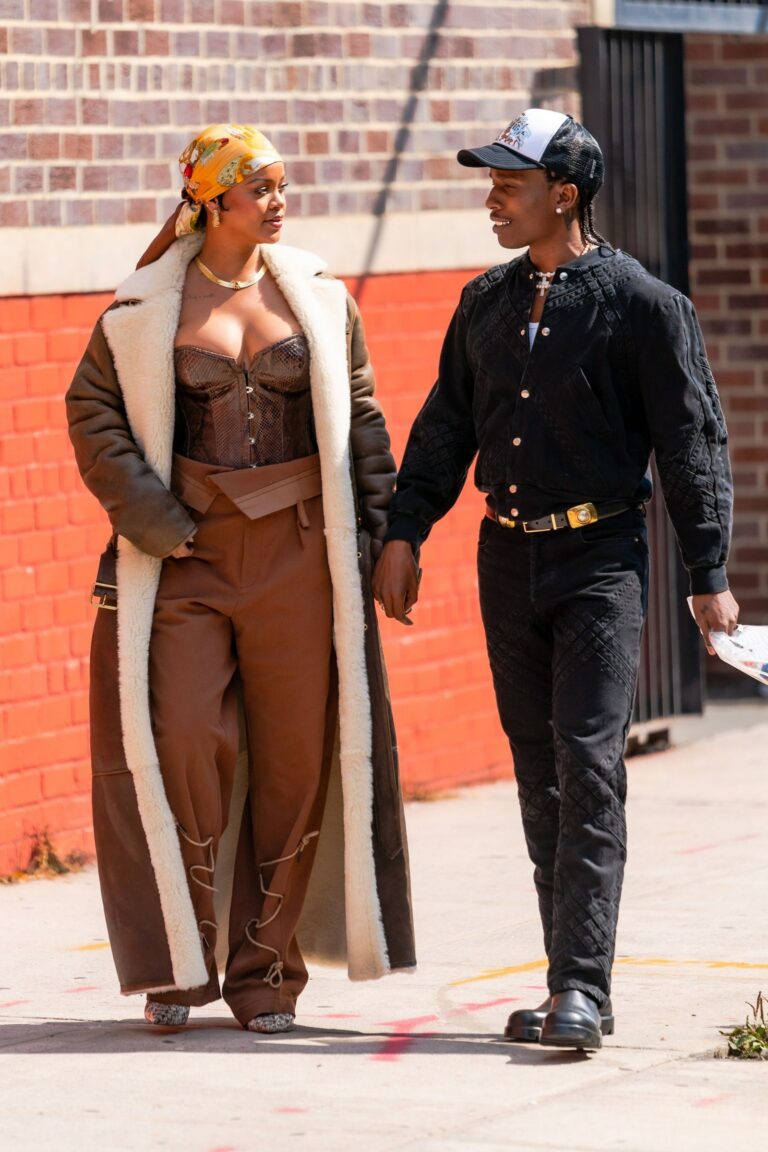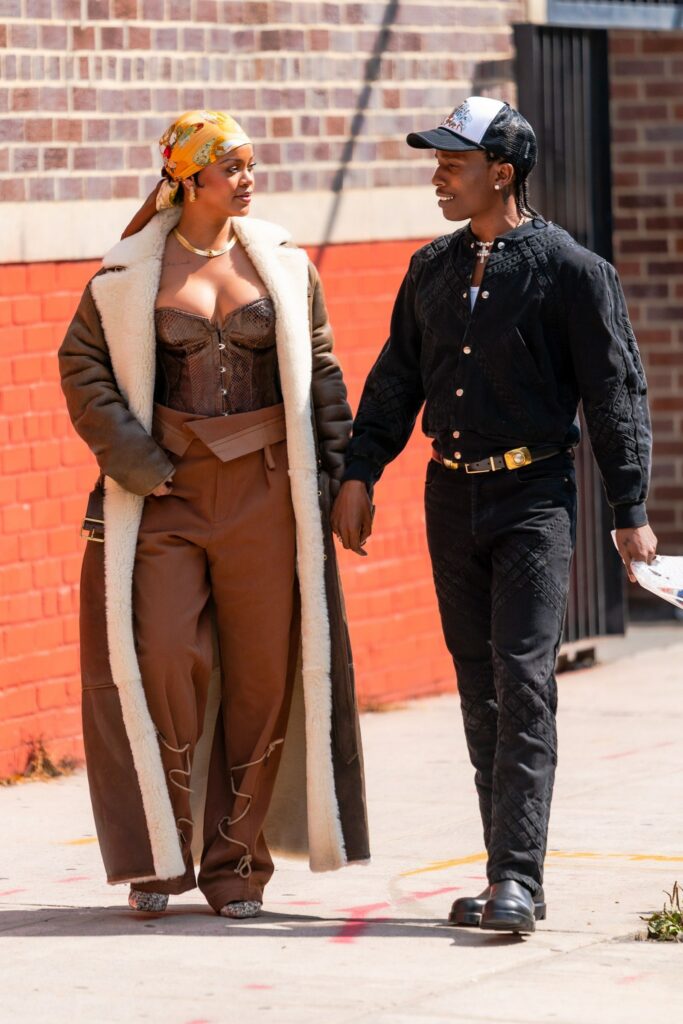 Rihanna, an American R&B and hip hop icon revealed her baby bump while out in New York City over the weekend with her rapper boyfriend A$AP Rocky. As many people know about A$AP Rocky and Rihanna, they love finding new ways to showcase everything. Rihanna does everything her own way, on her own schedule, and having a baby is no exception. Of course, with both being music and fashion icons it's expected for whatever they showcase to announce this big news would be either big, fashionable, music-related, and/or definitely different. Everyone is excited about Rihanna's photos known as the "celebrity pregnancy photoshoot" which Rihanna has differently made it different. Rihanna has brought the tradition back to earth by linking it to two modern vogue-like stylish phenomena. The visual equivalent of a laid-back Friday. Rihanna chose a style and composition that appears to be a clever reference to fashion itself, comparable to the Moore tradition photographs, which typically featured being as nude as possible, or the Beyoncé picture, which dipped into art history. In particular, Anna Wintour's first Vogue cover in 1988, which showed Israeli model Michaela Bercu smiling on the street in faded Guess denim jeans and a Christian Lacroix jacket with an elaborately jeweled cross on the front, her tresses blowing in the wind and wavy.
Rihanna, a 33-year-old American R&B and hip hop icon, proudly displayed her baby belly while out in New York City with her rapper superstar boyfriend A$AP Rocky over the weekend. The pair were shot by shot by Miles Diggs, a.k.a., Diggzy, over the weekend in New York City, and the photos were released on Monday, January 31. Rihanna showcased her baby bump, wearing a long pink jacket in the photos. Her oversize jacket had been slightly opened, revealing her developing bump (framed by the coat), which was covered with sparkling jewels and a jewel-encrusted custom cross on a long pearl necklace, and extra-long ripped jeans strolling in the street and held up by a gold and leather Chanel chain belt. A$AP Rocky kisses the soon-to-be mom on the forehead in one of the photos, they're holding hands while strolling down a Harlem street, which appears to be beneath elevated subway lines; where A$AP Rocky grew up. A$AP Rocky in the photos is wearing a Carhartt denim jacket, hooded varsity sweater, leather pants, and black beanie. From the photos there is only a minimum amount of coating of snow on them, so we can assume this indicates that the photos were taken before the weekend's snowstorm and cold conditions and were published on a planned schedule.
A$AP Rocky ("Always Strive and Prosper") revealed his relationship with Rihanna to GQ in May, calling her the "love of my life." When asked how he felt in a relationship, he replied "So much better. So much better when you got 'the One.' She amounts to probably, like, a million of the other ones. I think when you know, you know. She's the One." After years of friendship, sources reported in November 2020 that Rihanna and A$AP Rocky were dating. Since Rihanna's three-year relationship with billionaire Hassan Jameel ended in January 2020, the couple has generated dating speculations. Rocky last dated Kendall Jenner, which was his last high-profile relationship before he dated Rihanna. The couple made their red carpet debut at the Met Gala in September 2021, stunning heads as they walked the iconic steps.
"A lot of guys have tried to sweep her off her feet, but Rocky actually managed to do it… He's over-the-top romantic and sends her rooms full of flowers all the time. She's never felt this way before and this relationship has changed her." said A source from People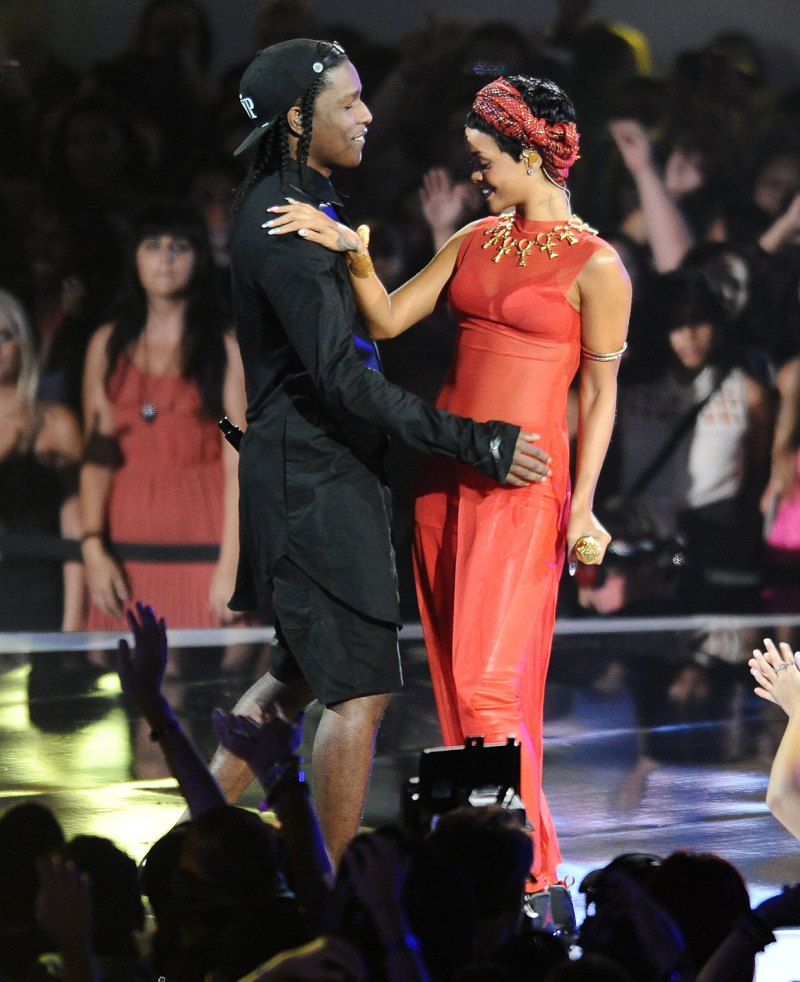 Both Rihanna and A$AP had earlier made statements about their new lives being in their 30's and what they wanted which both seem in alinement with one another. Rihanna stated that she had realized that life is too short.
"You don't have a lot of time to tolerate s****, you know? You put so much on your plate. When you're overwhelmed, you need to start cutting things out. And I'm overwhelmed too much…What's happening now is that I'm going back to black and white. My gray area is shutting down….. I know I will want to live differently" she said. Also continuing on to say that within the next 10 years she sees herself having "three or four" children, whether she has a partner or not.
She also stated her opinion about her having a child without getting married and what it now means to her stating "I feel like society makes me want to feel like, 'Oh, you got it wrong …' They diminish you as a mother if there's not a dad in your kids' lives… But the only thing that matters is happiness; that's the only healthy relationship between a parent and a child. That's the only thing that can raise a child truly, is love."
A$AP stated his opinion about becoming a father back in May of 2021, on GQ Rocky discussed the possibility of having a child of his own. He claimed that his upcoming child would be "extremely fly".
While during that time he didn't mention if he was planning to start a family with Rihanna, he did say that if it was in his "destiny….absolutely" to be a dad. Saying "I think I'm already a dad! All these (*****) are already my sons—whatchu talkin' 'bout!… Nah, but like, I think I'd be an incredible, remarkably, overall amazing dad. I would have a very fly child."
An insider from People says that the couple family and friends are all happy and excited about the new bundle of joy. "live together now and seem beyond happy and that their "friends are excited too…Everyone is happy it's all working out. They will be great parents," said the source.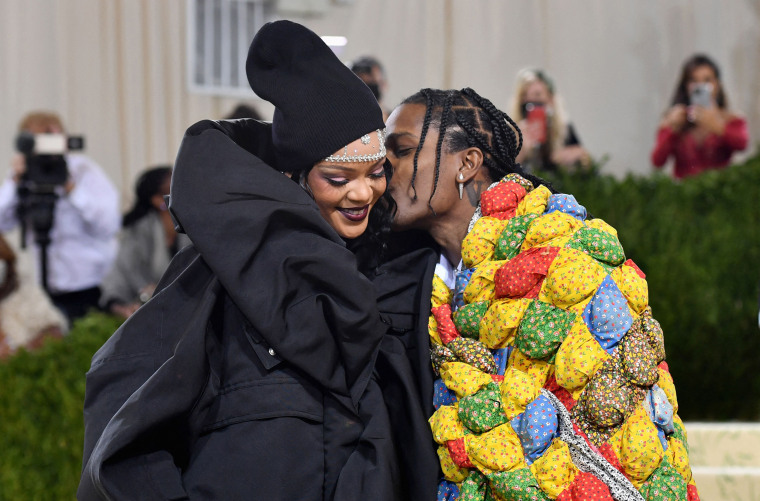 A$AP Rocky & Nigo dropped Arya on January 28, 2022. In 2021 he also dropped his album called Live.Love.A$AP ( Under Polo Ground Music, RCA Records, and Sony Music Entertainment ). Rocky also released his single Palace, keep It G, Get Lit, and some other music from his album audio version on all streaming platforms on October 29, 2021. He also dropped his EP Mazza with Slowthia and Rich Niggas Problem back in 2021. He also was named artistic director at PacSun in July of 2021, Rocky oversee designer collaborations, brand campaigns, and in-store activations in LA and New York. A$AP Rocky's had a fashion collab with AWGE (A creative agency founded by A$AP Rocky of collective compromised of a bunch of A$AP mob affiliates) & shoe designer Amina Muaddi, which dropped in December. Rocky collaborated with Vans, which saw Rocky "totally reimagine the Slip-On," as he told American GQ in September 2021. They were quickly sold out. The A$AP Mob and PacSun collaboration released new clothing collabs on January 14th, including plaid shirts, band tees, and beach-ready jackets. Rocky revealed in a July interview with GQ that his record, provisionally titled All Smiles, is 90 percent finished. He called the album a "ghetto tale" that is "way more mature" than his prior attempts. It's not confirmed when it will be released, like Rihanna's 9th album it's unclear and in the air.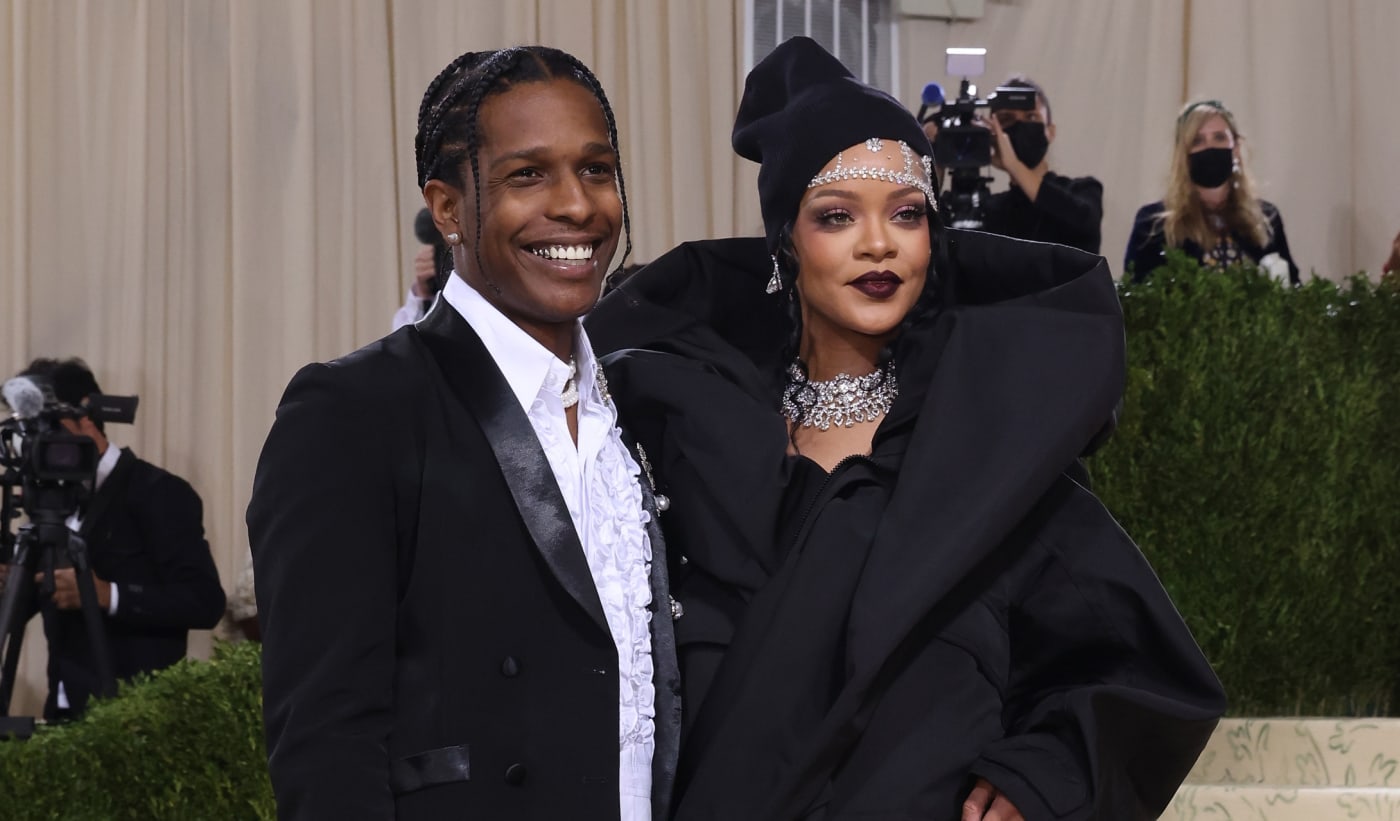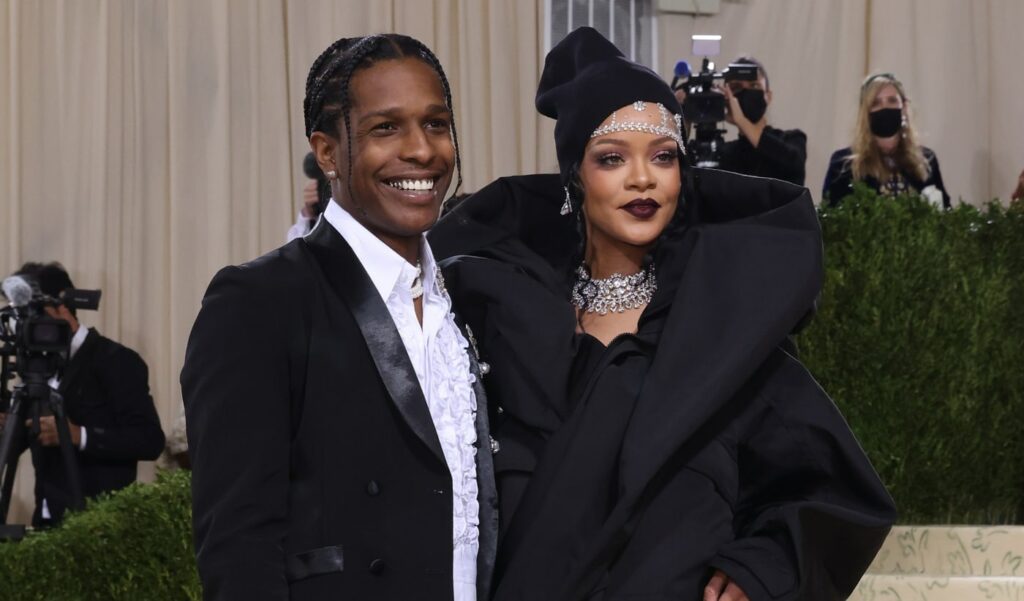 The last time Rihanna dropped any music was 2016's double-platinum eighth album Anti, which included songs like "Needed Me", "Work" and "Love on the Brain. Bad Gal has been slaying the fashion and beauty industry with her makeup & skincare brand Fenty Beauty along with her clothing line Save X Fenty, as well as supporting her various humanitarian causes and appearing on a lot of chart-topping singles, while not releasing any solo content since ANTI. She is expected to be featured on A$AP All Smiles Album. Back in March 2021, Rihanna confirmed that we will hear her new music R9 album "soon". With the baby news, we will most likely be waiting another year or so for this much-anticipated album, or it may be coming soon and the baby pregnancy could be part of the album songs inspiration.
Rihanna-Asap-Rocky-Photographed-by-Miles-Diggs- HipHop Untapped

Rihanna-Asap-Rocky-Photographed-by-Miles-Diggs-

Rihanna-Asap-Rocky-Photographed-by-Miles-Diggs-

Rihanna-Asap-Rocky-Photographed-by-Miles-Diggs-

Rihanna-Asap-Rocky-Photographed-by-Miles-Diggs-

Rihanna-Asap-Rocky-baby-Photographed-by-Miles-Diggs-HipHop Untapped

Rihanna-Asap-Rocky-Photographed-by-Miles-Diggs-

Rihanna-Asap-Rocky-Photographed-by-Miles-Diggs-

Rihanna-Asap-Rocky-Photographed-by-Miles-Diggs-
What is Rihanna's real name? Riahhh]nna real name is Robyn Rihanna Fenty
What is Asap Rocky's real name? Asap Rocky's real name is Rakim Athelaston Mayers
How old is Rihanna? Rihanna is 33 years old turning 34 on February 20th as of 2022
How old is A$AP rocky? Asap Rocky is 33 years old born on October 3, 1988
When was Rihanna born? Rihanna was born on February 20, 1988, her zodiac sign is an Aquarius
when was A$AP Rocky born? A$AP Rocky was born on October 3, 1988, he is a Libra
Where was Rihanna born? when was A$AP Rocky born? Rihanna was born in Saint Michael, Barbados, on February 20, 1988
Where was A$AP Rocky born? Asap Rocky was born in Harlem, New York,
What is Rihanna'snetworth? Rihanna net worth is said to be over $1.7 billion
What is A$AP Rocky's net worth? A$AP Rocky net worth is estimated to be over $10 million
What is Rihanna's Height? Rihanna's height is 5′ 8″
What is A$AP Rocky's Height? A$AP Rocky's height is 5′ 10″
Stream Rihanna & A$AP Rocky's on iHeart Radio, Spotify, and Apple Music:
Listen to Rihanna & A$AP Rocky's latest songs:
Be sure to follow @hiphopuntapped for the latest news in Hip Hop, Entertainment, Fashion, & Sports.