Golf Wang was created in 2011 by American rapper Tyler The creator. It is an American streetwear brand co-owned by Phil Toselli. Known for their artistic, colorful, bold, and unique visuals they have expanded into a global brand.

Golf Wang clothing brands sell a variety of products from clothing, to jewelry and other Products through Golf le Fleur. Golf Wang, which originated from the organization's Wolf Gang titled Odd Future or Odd Future Wolf Gang Kill Them All (OFWGKTA) first fashion styles were low-top sneakers with white tube socks, knee-length shorts, also colorful T-shirts, which Tyler regularly wore. The brand began to create seasonal lookbooks during 2011 which took off, "Holiday 1991" was their first lookbook to be released. The Odd Future store was opened on Fairfax Avenue in 2011, which was the first to sell Golf Gang products.
Golf Wang got its first big expansion and separated itself from the musician group during 2014. Golf landed a partnership with Vans during 2013, which lasted until 2016. In an earlier interview with Dazed Magazine in 2017, Tyler stated that Golf Wang cut ties with Vans due to a lack of artistic freedom. The brand then collaborated with Converse creating Golf le Fleur. They were introduced to the fashion industry through their collaboration with Converse during the Made L.A. fashion show on June 11, 2016. In 2018 Japanese sandal brand called Suicoke, they released sandals in the colors mocha and lemon yellow called KAW-CAB.
In October 2019, Golf le Fleur and Converse released a new silhouette named the 'GLF Gianno Ox, a different silhouette called the 'DEPA-CAB' sandals with the Japanese company, and created a scented candle with a Japanese perfume label called retaW. The candle was released on March 23 2019 and called Coldwater. From fashion brand, Lacoste for an SS19, Jeni's Splendid Ice Creams for Snowflakes their first ice bream, to Levi Strauss & Co with Ecru the brand was receiving many collaborations deals and branching into many niches. But with more exposure comes more controversy, many people did not like some of the graphics, there were other issues as well. There was also a design from Golf Wang's Fall/Winter 2013 collection that used an illustration of a person in blackface, including the Spring/Summer 2015 collection T-shirt embellished with a rainbow Neo-Nazi representative intended to raise anti-homophobia and anti-racism awareness, which backfired. But With each obstacle, Tyler overcame and became well known and respected for his unique styles and graphics.
Check out their 2021 products
3d rainbow golf logo. 100% COTTON JERSEY TEE WITH SCREEN PRINTED GRAPHIC.
Cream. White, Mint, Pink, & Powder Blue.
.

Best Sellers
Tyler the Creator Poster T-Shirt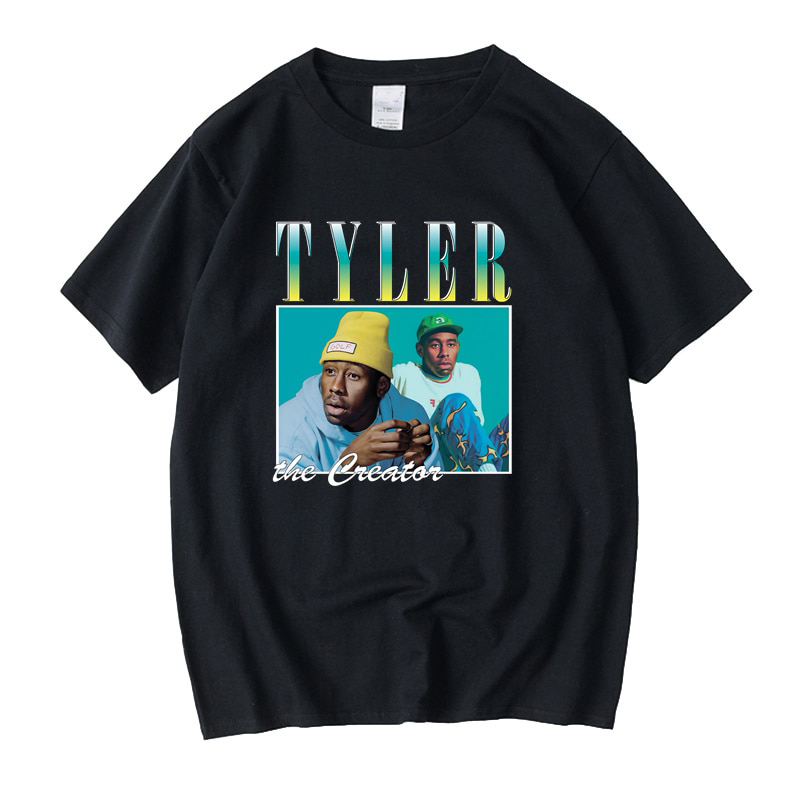 Tyler the Creator 2 Piece Set Warm Tracksuit Sportswear