What is Drill Music? Drill music is a trap theme genre of songs characterized by its ominous trap-influenced beats and dark, aggressive, nihilistic, and very gritty lyrical content. It is a type of trap music that emerged in Chicago's South Side ( Woodlawn neighborhood of Dro City). Drill gained notoriety in the United States in mid-2012, due to the hits of rappers and producers like Lil Durk, Pop Smoke, G Herbo, Chief Keef, Sleepy Hallow, Sheff G, Fivio Foreign, and 22Gz, Lil Reese, King Louie, LA Capone (R.I.P), Lil Bibby, Rondonumba9, Young Pappy, Fredo Santana, and Young Chop who had a large fanbase in their home country and a strong online presence. Drill music's United Kingdom, Netherlands, Australia, and counterparts began in 2014 and quickly gained popularity as well, creating a wide global spread of music that focuses on the fast-paced beat, crime, and the daily trials of being in the streets.
It's similar to diss tracks, but unlike diss tracks which solely talk trash about the person to intimidate them, drill music is meant to provoke, mock, and cause violent responses. It's also common with despite its resemblance to trap music, a drill beat's tempo is often slower, with a moderate tempo of 60 to 70 beats per minute. Some producers operate at a faster speed, like 120 to 140 beats per minute. Important influences on the drill artists according to them were rappers such as Lil Wayne, 50 Cent, Notorious B.I.G, Gucci Mane, Soulja Boy, A Boogie wit da Hoodie, Waka Flocka Flame, and many others.
Drill music had its breakout moment when Chief Keef released "I Don't Like" on March 12, 2012. Streamer DJ Akadamic also had a major role in American Drill as he was one of the 1st to report on the music and crime associated. Drill artists were signed to major labels after receiving media exposure as Lil Reese and Lil Durk, both members of Chief Keef's GBE team, secured record and management deals with Def Jam, while another Chicago rapper King Louie went with Epic. Drill music was one of the first music scenes to operate almost entirely through video and streaming which was major for the artist and simple for them to get their messages across, traditional CDs and iTunes downloads were non-existent. It wasn't until early 2013 that Billboard began to adjust its metrics and count streams as a sale. Many people assumed it was a trend, but it was not it was an awakening to a new era.
While Drill music was busy setting the standard for hip-hop the mainstream music industry didn't understand it. 2-minute Singles, on-purpose leaks, and low-budget music videos rapidly dominated the scene, most of the music was recorded in apartments or on local street corners and gas stations with crews pointing guns at the camera. The rapping style is straightforward. In most beats, you hear Rapid sounds, sirens, and church bells, mixed with gunshot sounds basically sounding like a Hip Hop horror movie, producers like Young Chop and DJ L. Drill created the sound which was used worldwide.
The criticism and controversies grew as the music increased throughout the internet. DJ Akademic was a main narrator of the music with a YouTube channel dedicated to crime in Chicago called "The War In Chiraq" Many rappers and fans over the years have tried to place blame on the Hip Hop Streamer but he was simply reposting and was not in Chicago at the time of any murders. After the murder of Lil Jojo a young kid from Chicago, rapper Chief Keef was widely chastised for insulting him. Also the same with Platinum Hip Hop Rapper Lil Durk & Chicago Drill Rapper FBG Duck. Many rappers have died or spent years in prison, with the majority still serving time behind words said in songs. This is the real world these rappers live in, a reality made by circumstances and factors that racism aided in creating mixed with poverty and a cycle that has yet to be broken. By 2016 crime rate had tripled compared to decades ago before then, from New York and Chicago to overseas in areas like the UK, Rapper 67( The UK drill Godfather ), and Giggs released "Let's Lurk" back in 2016 it was clear the music had become worldwide. By 2017-2019 songs from artists such as Pop Smoke, Lil Reese, Skengdo, King Von, Lil Herb, Young Chop, Lil Jay, Karma, Chief Keef, Lil Durk, Sheff G, late Chii Wvttz, Lil Mouse, Young Pappy, Montana of 300, Loski, 22Gz, Nas Blixky, and many others drill artist and the violence with it had become the majority sound of Hip Hop (rap) music.
Drill music representatives are mostly young, several of the genre's most well-known musicians gained popularity and millions while still in their teens. Chief Keef, one of the genre's most well-known musicians, was 16 when he secured a multi-million dollar record deal with Interscope, and Lil Mouse, a 13-year-old driller co-signed to Lil Wayne releasing his first album, Michael Mouse Myers. Of course, as you can guess their main fans who streamed the music were around their age, between the ages of 13-25 causing death and other violence in their cities and around the world.
The younger the listener is the easier they are to influence and cause them to repeat things they see and hear about through the music. So not only are these young lives being lost by the circumstances they are born into, society's systematic racist base government systems, biased social media, stereotypical prejudices, and propaganda but also by their own people of color that they look up to.
Recently New York City Mayor, Eric Adams has accused the "drill" rap style of music for the city's drastic escalation of violence this year. So he met with some of those rappers late Tuesday, February 15th, 2022 to discuss solutions to the problem, which is caused by trigger-happy rappers who glamorize killing in their songs and are quick to obtain guns to resolve disputes.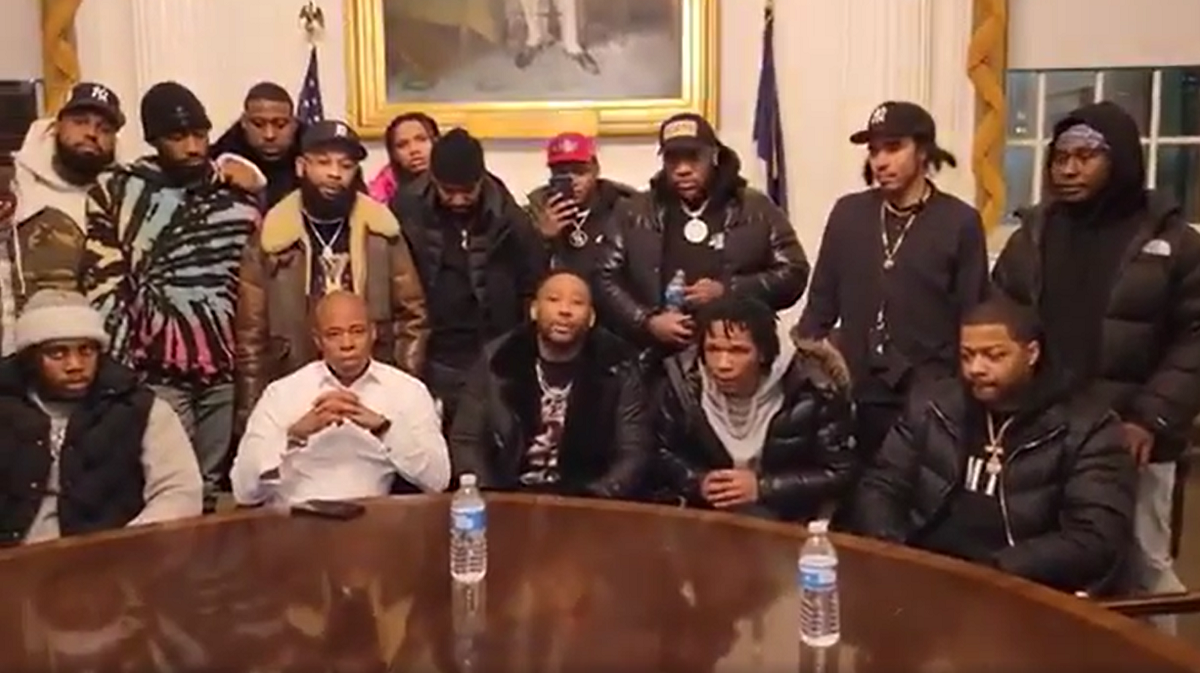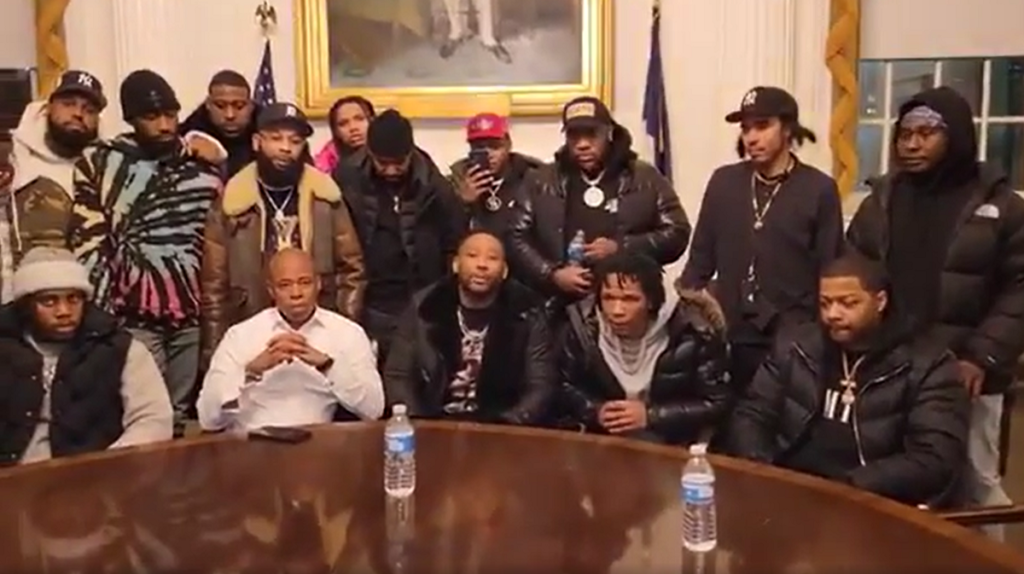 In the past year, many Drill Rappers were killed in Brooklyn. TDott Woo a drill artist, was tragically shot in the head, shortly after joining a Million Dollar Record label. Adams was overcome with emotion by the death of one of those rappers, Following the death of rapper Jayquan McKenley, an 18-year-old who performed under the name Chii Wvttz and was fatally shot in an assault outside a recording studio in Bed-Stuy, Adams has called for the banning of drill rap videos from social media. Adams urges social media companies such as TikTok, Youtube, Instagram, and Facebook to put an end to the music, which was available for over a decade. Their most recent arrest was 22Gz in which he was arrested at JFK Airport for attempted murder. He's accused of opening fire on March 6 at about 3:30 a.m. outside Club Freeze Cafe & Lounge on Flatbush Ave. in Marine Park and hitting three people He was set to be released from Rikers Island on a $500,000 bond and will be returning to a home in Georgia.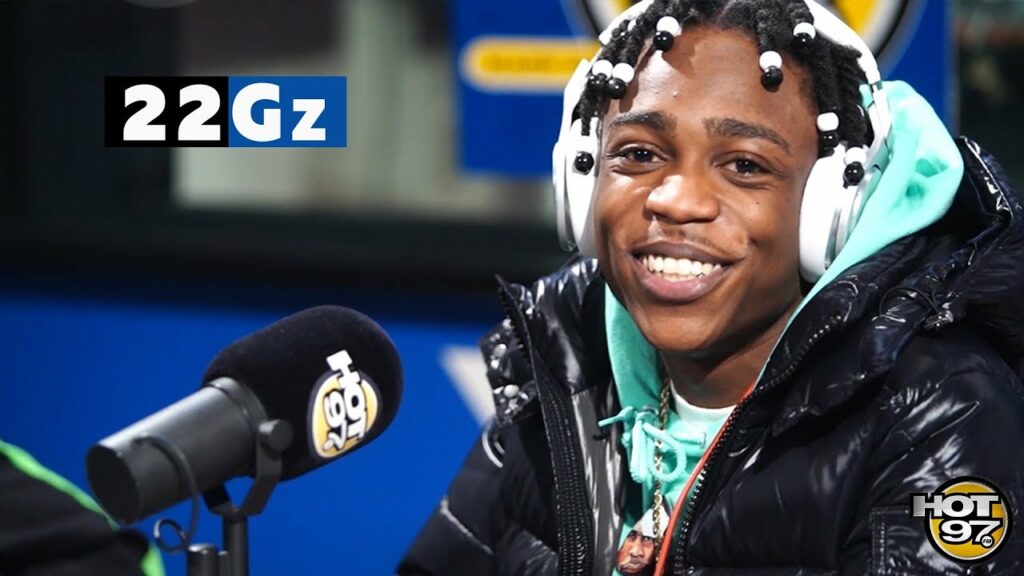 Fivio Foreign, B-Lovee, Breezy, Bucksy Luciano, and CEO Slow Bucks were among the names in Hip Hop who joined Maino at City Hall to talk about the problem with Mayor Adams.
"The conversation is deep because a lot of these kids, they are in gangs even before they made a rap record, so is it the music? I don't think it's the music that's getting the average person to do crime," Maino said.
Thirty years ago they wanted to ban Snoop Dogg and Dr. Dre," Maino Continued. "Two, three days ago Snoop Dogg, Dr. Dre, Eminem were performing at the Super Bowl."
Although it's very clear that drill music indeed is a big factor in the increase in violence in the black community, canceling them will not solve the problem. These artists are not just telling a fun made-up story through their music, those lyrics are the majority of their real lives, and many others between the ages of 12-28 daily. Trying to shut their voices down is not only a violation of freedom of speech, but will only cause more damage. Yes, drill music most definitely needs to be minimized with the amount of violence it promotes and the information they provide about the crimes they do. There needs to be a common ground agreement through the artist to still releases their art without so much glamorizing and provoking lyrics and just maybe if the lyrics do match the crime it might be best to just not say it, or else that's admission to guilt via a song.
HipHopUntapped does not in any way condone violence.
Be sure to follow @hiphopuntapped for Hip Hop News , Entertainment , Fashion , & Sports.