Philadelphia female rapper Rocky aka FakeBitchesHero received praise from Meek Mill saying that she is 1 of the best female rappers in Philly. Rocky is well known but highly underrated for her rapping skills and work ethic.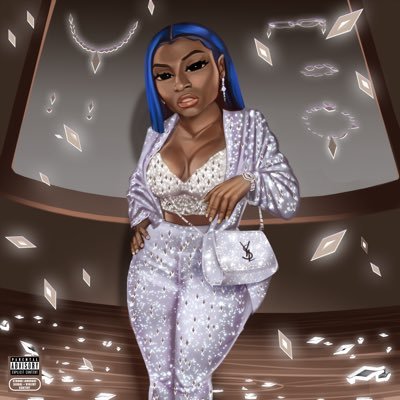 Background
FakeBitchesHero aka Rocky the Philly lyricist who has released many songs from "Beef" to her first album titled "Rocky" to "Crush On You" from her album latest "Like That". Rocky has been known for her rough and edgy style of rapping, her lyrical style is unlike no other. Her music is considered classic, edgy, erotic, unapologetic, confident, and raw. Rocky is supported by many fans and celebrities, and music organizations such as Meek Mill, Rich Dollarz, Casanova, ASAP Rocky, Funny Bull Quill, Power 99, 103.9, and many other celebrities & music organizations.
As long as she could remember, she has always written poetry. "I feel that this industry lacks females. I have real-life experiences in what I'm rapping or singing about. I think that makes my work more relate-able" –Rocky aka (FakeBitchesHero) single I Don't Give A F**k is as she describes as her introduction to the world.
Crush ON You
Crush on you is one of Rocky new songs, unlike many of her songs the song features her more feminine and sexy side. The song features many descriptive sexual lyrics that create a romantic vibe for its listener. The song is great when listening with your partner, your friends, or by yourself thinking about that special guy. The video is of her in lingerie in a room while singing and dancing, her in a semi-dark room with a man dancing, and here at a party each scene creating a romantic vibe that resonates with the lyrics. The song is quite unique due to Rocky's style of rapping is usually hard and straightforward. There are many similarities to artists such as Lil Kim, Foxy Brown, Eve, and male artist like DMX. Which makes her an undeniable talent.
Leaving Your Keys
Leave your key talks about asking your partner to not give up on the relationship. She explains how females can mess up in their relationship " Hold I just need like one last chance, baby you can't just leave me like that", displaying a women's loyalty to a street guy. "I came through for you when you had got locked up". The song elaborates on relationships that have constant obstacles that cause the partner to want to leave but doesn't, part of you wants them to but you know you really don't. The beauty of the storyline creates a bond with the listener to resonate with the artist's emotions and what they're going through.
Like That
The song is great to listen to when you're having "one of those days" or to motivate you during your day. "We already know these hoes ain't fu*king with me, so we ain't going to trip like that, just watch what you say to me, don't play with me, cause you can get hit like that"
Check out FakeBitchesHero on Spotify
Be sure to follow @hiphopuntapped for Hip Hop News , Entertainment , Fashion , & Sports.