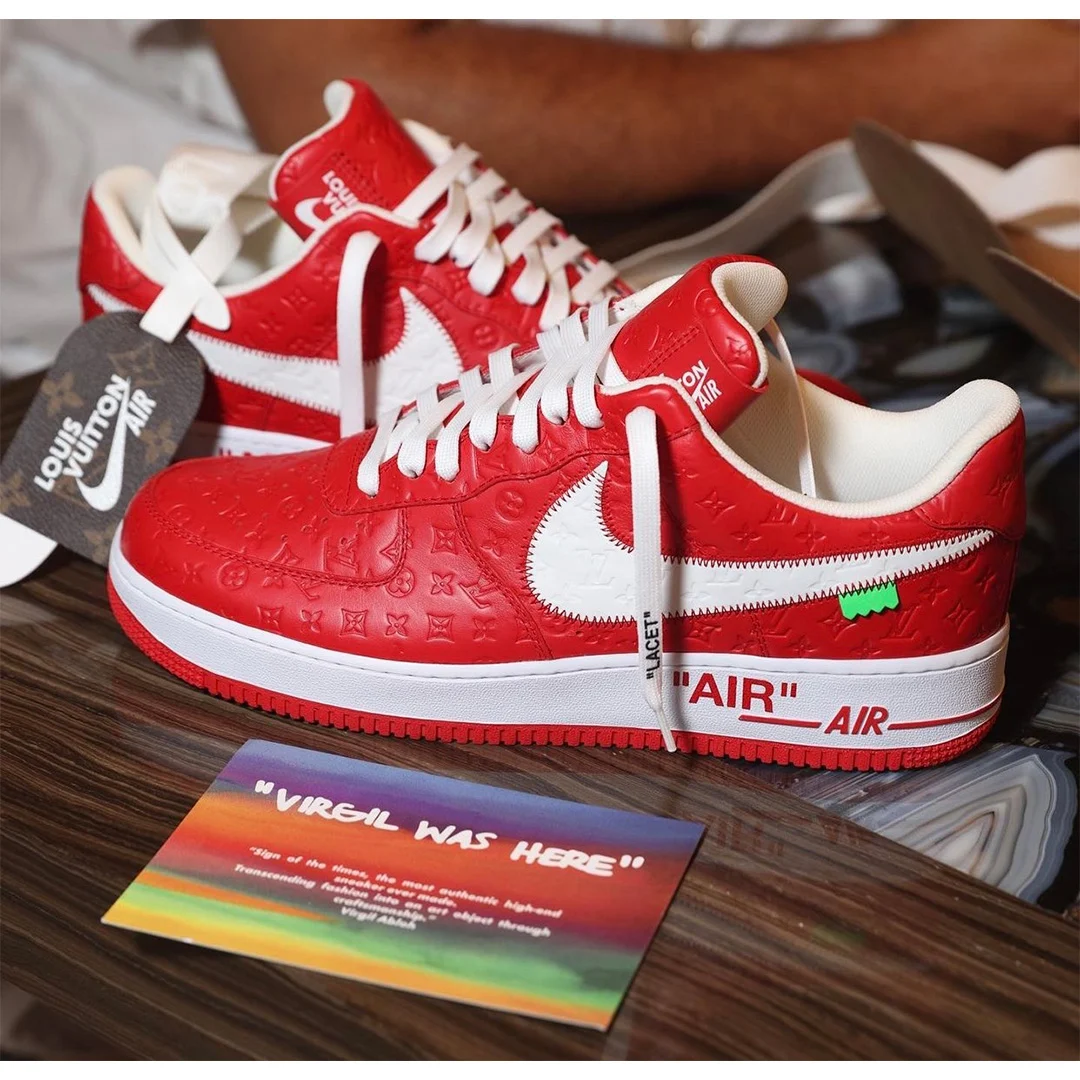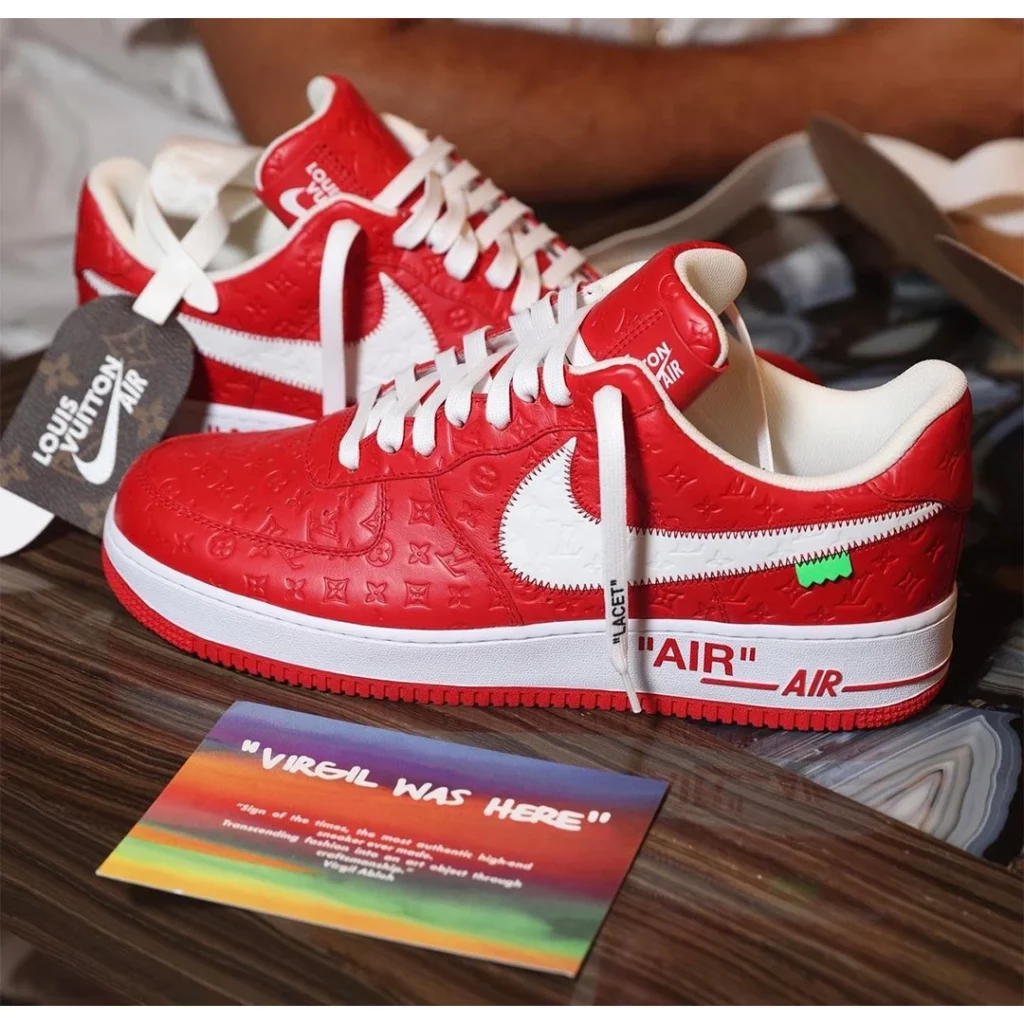 Louis Vuitton and Nike have collaborated to create an everlasting masterpiece: the Air Force 1 from Virgil Abloh. The Air Force 1 combines the elegant touch of a high fashion brand with the tradition and relevance of a sportswear brand. The LV artistic director promised that further details will be revealed soon after the collection was first seen on Thursday as part of Virgil's spring 2022 men's collection. For the planned project, twenty-one unique shades are expected to be produced. The company shared photographs of two colorways: green and white and blue and white, both with trademark Off-White details like the "AIR" logo on the sole and lettering on the laces. A monogram orange sneaker trunk appears to be in the works alongside the sneakers. Its features were calf leather material, an all-over LV logo, and a Nike Swoosh tag.
"The cover embodied the hip-hop community's early practice of hacking together high fashion and sportswear, sidelining diverging brands with equal reverence. A cultural symbol in its own right, today the Nike Air Force 1 serves as an objet d'art emblematic of self-generated subcultural provenance," Vuitton said, discussing the Nike AF1.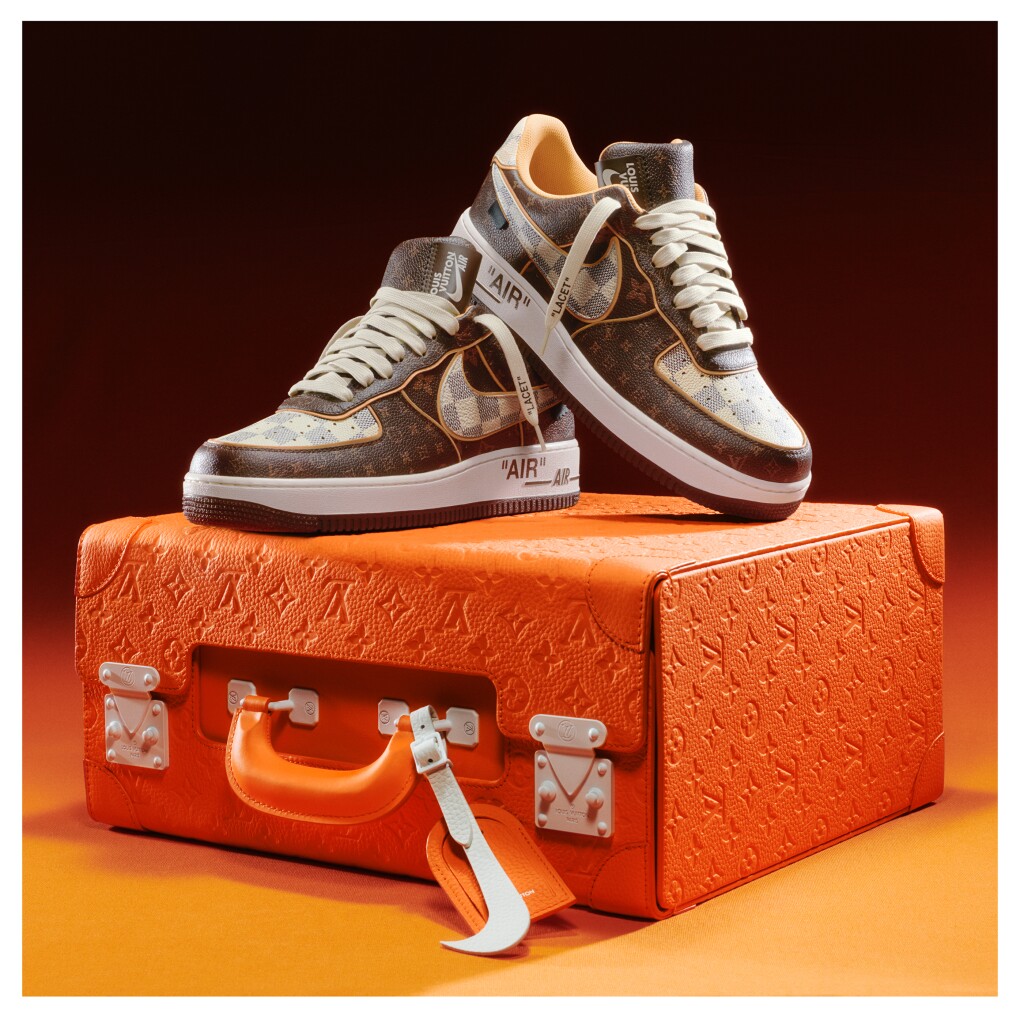 Following the release of 47 pairs last summer, Sotheby's is auctioning off 200 pairs of the Louis Vuitton x Nike Air Force 1, with all revenues going to Virgil's "POST-MODERN" Scholarship Fund (Abloh's Fashion Scholarship Fund for Black students charity). Each pair is packaged in an orange leather pilot case with the LV monogram stamped on the front and a white Swoosh on top. The online auction in this special colorway runs from yesterday January 26th to February 8th, with sizes ranging from 5-18 and bidding starting at $2,000.
Anyone wanting to get their hands on Virgil Abloh's Louis Vuitton x Nike Air Force 1 collab on the cheap must be disappointed. Those highly sought-after sneakers are already reaching five-figure prices at Sotheby's auction. It really isn't unusual, given how the LV x Nike AF1 series shattered the sneaker world when it debuted in Summer 2021.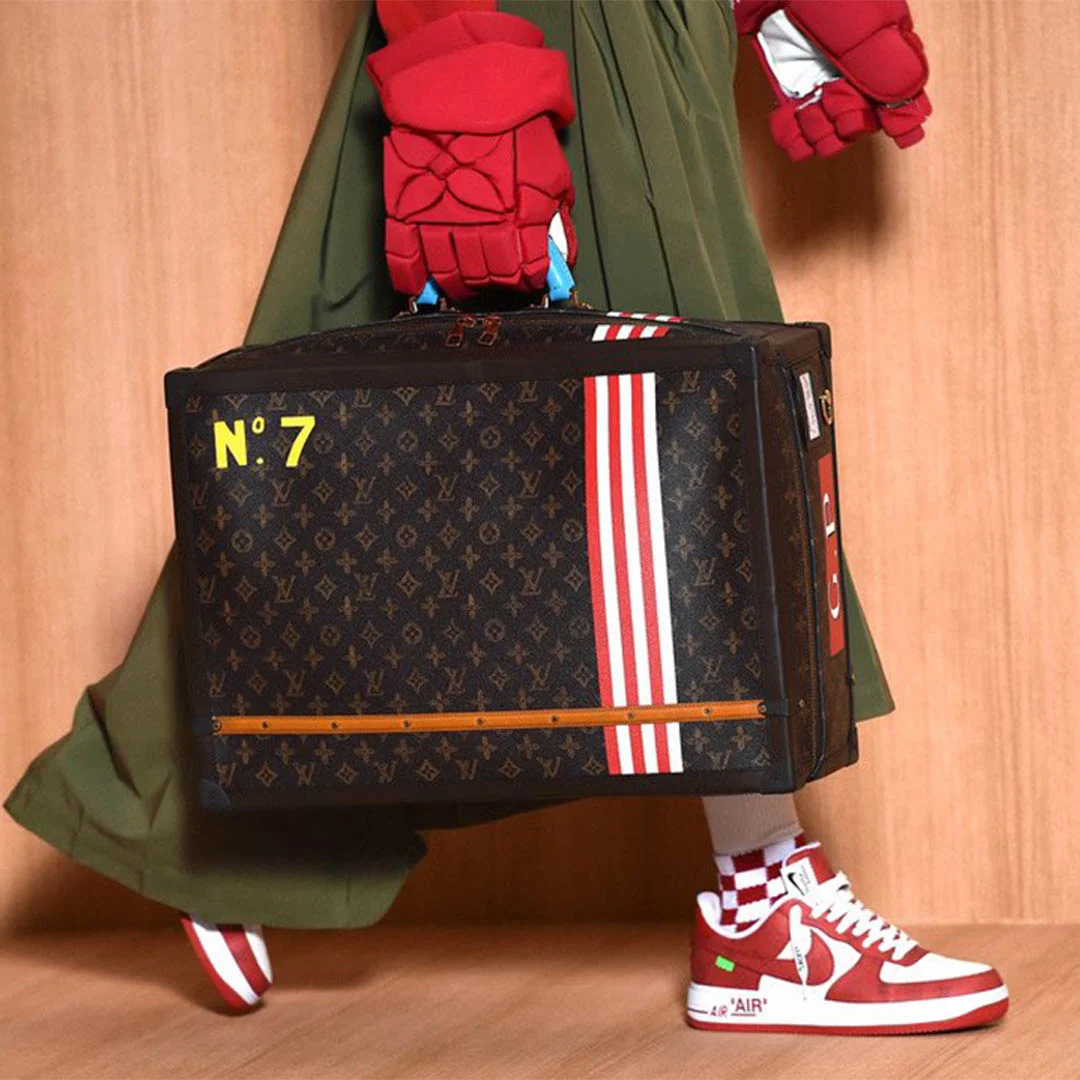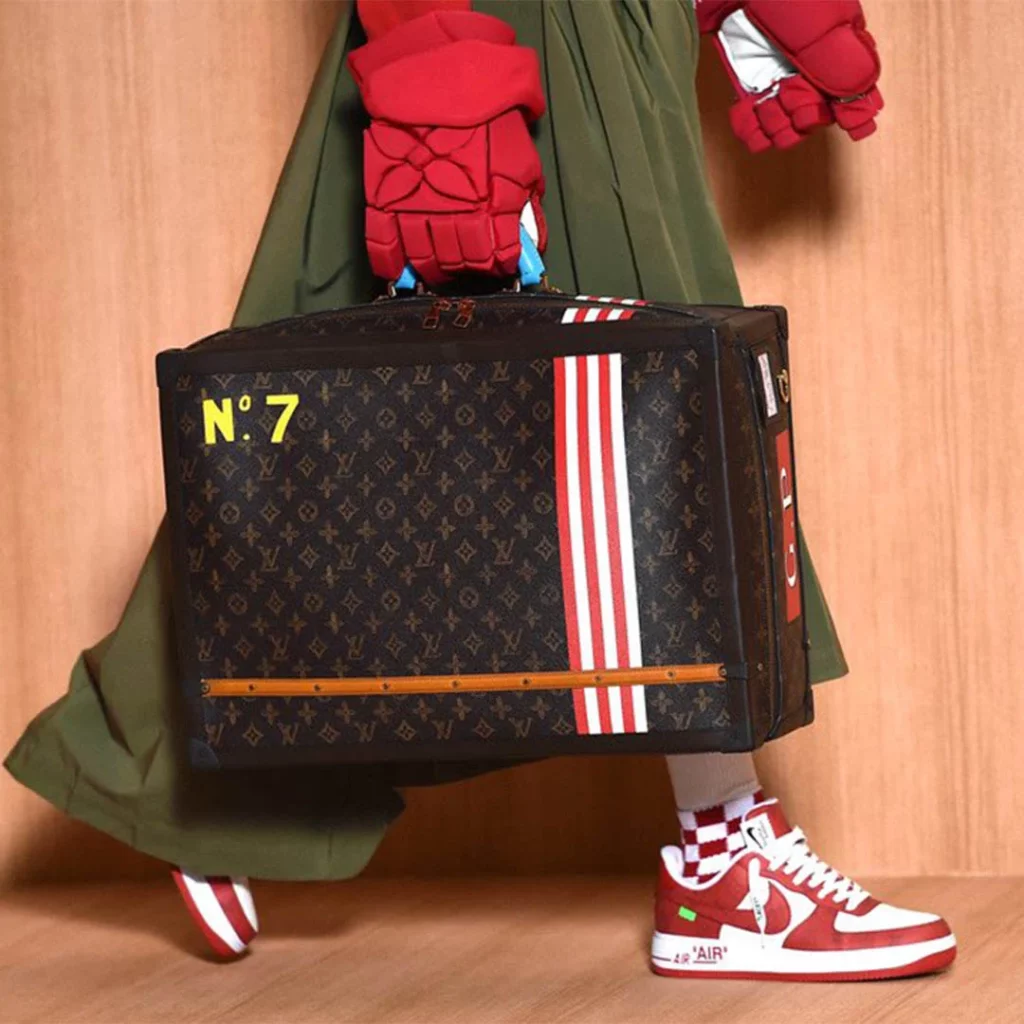 When the sale began on January 26, initial bids for the 200 pairs of sneakers started at $2,000 each, which was already out of reach for most but only a few hundred dollars more than Virgil Abloh's own LV Trainer. The Louis Vuitton x Nike Air Force 1 bids had jumped above $20k a day later, with some reaching $30k. With a whopping $70k bid, one pair in the ultra-desirable size US 11 brings the majority to shame.
Who was Virgil Abloh?: Virgil Abloh was an entrepreneur and fashion designer from the United States. Beginning in 2018, he was the artistic director of Louis Vuitton's menswear collection, and in early 2021, he was granted expanded creative duties across the LVMH brand. Abloh was also the founder and CEO of Off-White, a fashion business based in Milan that he started in 2013. He is the first African-American to be artistic director at a French luxury fashion house. Abloh rose to prominence as a DJ and began performing at gigs all around the world. In 2021, he launched "Imaginary Radio" c/o Virgil Abloh, a new monthly two-hour internet radio show on Worldwide FM. DJ performances and interviews with musicians and other creatives were featured on the show
How old is Key Glock?: Virgil Abloh's was 41 years when he died in 2021 and was born on September 30, 1980, in Rockford, Illinois
When did Virgil Abloh die?: Virgil Abloh died November 28, 2021
What is Virgil Abloh's Networth?: Virgil Abloh's Networth is over $100 Million
What is Virgil Abloh's zodiac sign?: Virgil Abloh's zodiac sign is Libra
What is Virgil Abloh's Instagram?: Virgil Abloh's Instagram is @virgilabloh
What is Virgil Abloh's Twitter ?: Virgil Abloh's Twitter is Virgil Abloh (@virgilabloh)
What is Virgil Abloh's Off-White Instagram?: Virgil Abloh's Instagram is Off-White™ (@off____white)
Does Virgil Abloh have siblings?: Virgil Abloh has one sister named Edwina Abloh
When was Virgil Abloh born?: Virgil Abloh was born on September 30, 1980, in Rockford, Illinois
What is Virgil Abloh's Height?: Virgil Abloh's height is 6ft 2in
How did Virgil Abloh Die? Virgil Abloh died on November 28 after he privately battled cancer for two years
Where is Virgil Abloh from?: Virgil Abloh's is from Rockford, Illinois
How old are Virgil Abloh's children?: Virgil Abloh has two children by his wife Shannon Abloh, named Lowe and Grey Abloh
Was Virgil Abloh married?: Virgil Abloh Virgil married Shannon Abloh in 2009
Who are Virgil Abloh's parents?: Virgil Abloh's parents are his father Nee Abloh and his mom Eunice Abloh. Ther are Ghanaians, who immigrated to the United States. His mother worked as a seamstress, and his father ran a painting business. He learned to sew from his mum
Be sure to follow @hiphopuntapped for the latest news in Hip Hop, Entertainment, Fashion, & Sports.