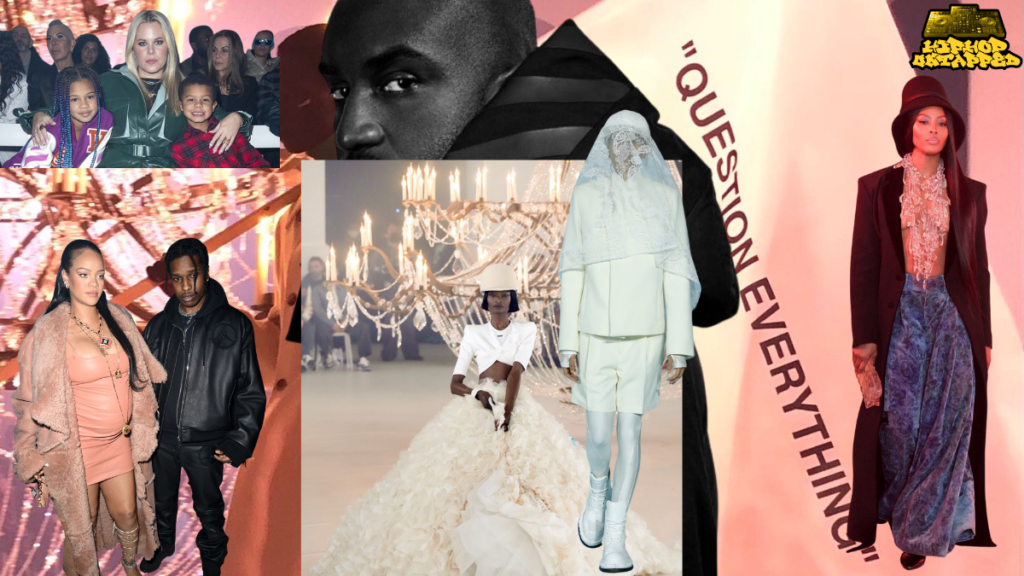 Celebrities gathered at Virgil Abloh's farewell Off-White runway show at Paris Fashion Week on Monday, February 28, 2022, which represented the fashion house's debut runway display since Virgil Abloh's unfortunate death in November.
Rihanna, Kendall Jenner, A$ap Rocky, 21 Savage, Gunna, Pharrell, 2 Chainz, Naomi Campbell, Lil Baby, Serena Williams, Metro Boomin, Gigi and Bella Hadid, Cindy Crawford, Kaia Gerber, Idris Elba, Ricky Martin, and a slew of other celebs packed the Off-White Paris Runway Fashion Week Show to pay respect to Virgil Abloh.
Virgil Abloh's last show in Paris. 28/02/2022 pic.twitter.com/W3DhktvvCh

— Marc-Antoine JAMET (@MA_Jamet) February 28, 2022
Spot Serena Williams, modeling in the Off-White Virgil Abloh memorial show #PFW pic.twitter.com/lAfFQoE6w8

— Vanessa Friedman (@VVFriedman) February 28, 2022
Rihanna and A$ap Rocky were spotted in the front row during the showcase, in photos taken at the event. Rocky wore an all-black attire, while the expectant mother wore a peach leather minidress and shoes. Jenner, twins Gigi and Bella Hadid, and tennis player and colleague fashionista Serena Williams followed Supermodel Naomi Campbell, who also appeared in the creative director's final Louis Vuitton show in January.
"so grateful to show love to my friend. I had an unbelievable time walking in the Off-White show," the tennis star said in a post. "Virgil meant so much to me, and to walk in a collection that he was still a part of was something I could not miss. Thank you for the opportunity," she continued.
After a two-year fight with cancer, Abloh died on November 28, 2021. He was born on September 30, 1980, in Rockford Illinois. He was 41 years old at the time of his death.
His family stated that the designer was facing cardiac angiosarcoma, a "rare, aggressive" form of cancer, in a message on the designer's Instagram page. Abloh wanted to keep his sickness a secret while continuing to work in the fashion industry, according to his family.
Celebrities, fashion lovers, and designers came to pay tribute to Abloh, who worked as artistic director for Louis Vuitton, at a showing of the French fashion house's Spring-Summer 2022 Collection in Miami, which marked Abloh's final display for the brand.
Off-White Paris Runway Fashion Week Show Gallery: All images can be found Via Twitter
Be sure to follow @hiphopuntapped for the Latest Hip Hop News , Entertainment , Fashion , & Sports.