Last year was an amazing and successful year for Ye, from the Yezzy X Gap Round Jacket selling out alone making over $7 million at $200 per jacket, or the Yeezy X Gap Hoodies for $90 each selling over 6,000. To his number one album Donda having 33.4 million streams, and his upcoming Yezzy dropping on January 21, 2022, the Adidas X YEEZY 500 "Blush". Ye is in his money and creative bag all year round.
Ye said in the "Heaven and Hell" song "We on Bezos" speaking about Jeff Bezos's massive net worth of over 200 Billion, as far as the start of 2022 Yezzy is walking the walk, and talking the talk. Jan 6th Ye made an Instagram post showing his Partnerships with The Gap Inc, Yezzy Supply LLC, & Balenciaga SAS.
Kanye West has released a new video for his song "Heaven And Hell," which appeared on his newest album, Donda (it landed number one on the Billboard charts in 2021). The stark aesthetic portrays mysterious figures covered in black from head to toe (including black masks). A god-like figure, who looks to be West himself, eventually opens a portal, allowing numerous figures to soar to the sky. The video also serves as a promotion for Kanye West's Yeezy collection with Gap. Before coming live online, it made its premiere during the College Football National Championship. West also re-released the Yeezy Gap hoodies seen in the video, to coincide with the premiere of the video. Defined by Kanye as "perfect hoodie," it's currently available to purchase in black and blue via YeezyGap.com.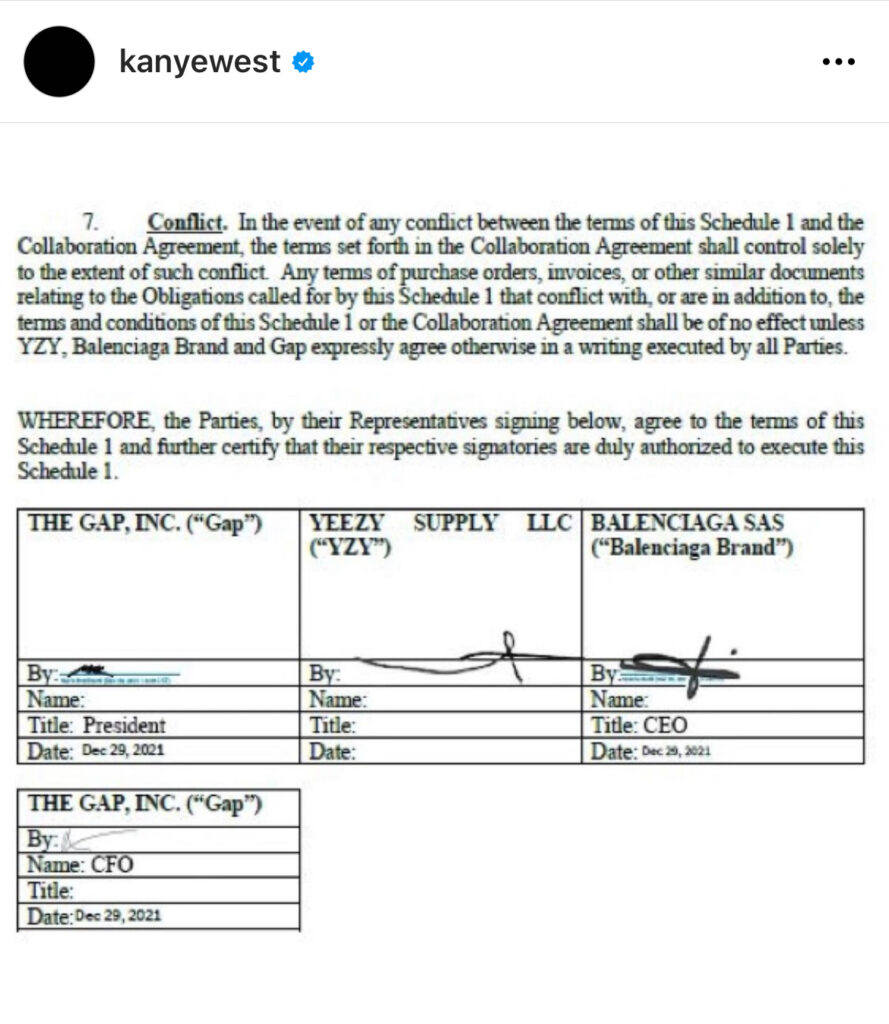 Not much detail in the photo and also no caption but we get the picture. Yeezy is not letting his divorce from Kim Kardashian get in the way of his creative process either. As Yeezy is out in the world living his best life as pictured in this photo posted by DJ Akademiks
Netflix has published a new teaser trailer for "Jeen-Yuhs," a planned three-part documentary on West, and revealed that part one of the film would be released in theaters ahead of its Netflix launch.
According to a story from Consequence this week, West will perform alongside Billie Eilish at Coachella 2022 this April. He reunited with Drake for a 34-song performance in December, marking his first live appearance in five years. West's long-awaited album, Donda, received Grammy nominations for Album of the Year and Best Rap Album in 2022.
After Ye's Gap commercial premiered he released Heaven and Hell music video in the video there's a lot of people in hoodies in a dark setting and also floating bodies with lots of Gap brand clothing. You can check it out above.
Listen To Donda
Buy Yeezy
Coming Soon
Be sure to follow @hiphopuntapped for the latest news in Hip Hop, Entertainment, Fashion, & Sports.