Conor McGregor's presence at the Kaseya Center in Miami might be met with resistance in the future due to a recent incident during Game 4 of the NBA Finals between the Miami Heat and the Denver Nuggets. McGregor, a former UFC champion, caused an uproar by delivering a punch to the face of Miami's mascot, Burnie.
The man inside the Burnie costume required medical attention at a hospital following the punch. He was administered pain medication and was eventually discharged, thankfully recovering from the incident.
Conor McGregor sent the Heat mascot to the ER, why'd he punch him so hard 💀💀💀💀💀 pic.twitter.com/ViRSf9KVZB

— Solo (@YT_Solo) June 10, 2023
During a break in the game, McGregor engaged in his promotional activity for his pain relief spray. In the midst of the promotion, he unexpectedly swung a left hook punch at Burnie. As if that weren't enough, McGregor proceeded to land another punch while Burnie was lying on the court.
Adding further insult to injury, McGregor even gave the mascot some of his pain relief spray, which evidently failed to prevent Burnie from needing additional medical treatment. It is doubtful that this incident, despite the saying that there is no such thing as bad publicity, will lead to increased sales for McGregor's product.
In addition to the backlash he received for his actions, McGregor faced a hostile reception from the crowd during the game. The boos intensified after the mascot altercation. Although the punch may have been intended as part of the planned promotion, McGregor seemed to have taken it too far.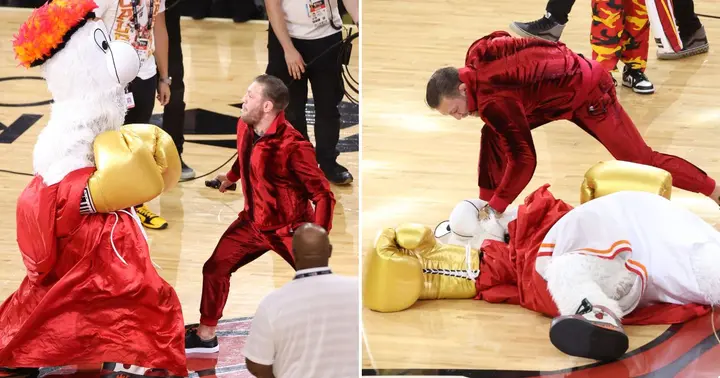 Overall, Conor McGregor's future appearances at the Kaseya Center in Miami may be met with reluctance or even a ban as a result of his controversial and excessive behavior, which overshadowed the Miami Heat's loss to the Denver Nuggets, leaving the Heat trailing 3-1 in the series.
Be sure to follow @hiphopuntapped for Hip Hop News, Entertainment , Fashion , & Sports.