Doja Cat Unleashes Mesmerizing Single "Attention" and Unveils Haunting Music Video Directed by Tanu Muino
"Attention" video out now 🩸 pic.twitter.com/pbSj4pCPcG

— DOJA CAT (@DojaCat) June 17, 2023
Doja Cat is gearing up for the release of her highly anticipated album, "First of All," and has just dropped her latest single, "Attention." Produced by Y2K and Rogét Chahayed, the track marks a new era for the artist as she showcases her captivating vocals layered over dynamic beats. In the song, Doja Cat exudes self-assurance and confidence, both in her appearance and the quality of her music. With its powerful and alluring sound, "Attention" solidifies its position as a strong contender for Album of the Year.
Directed by the talented Tanu Muino and shot in Los Angeles, the accompanying music video for "Attention" takes viewers on a surreal journey. Doja Cat's distinctive style shines through as she dons low-rise flares, seven chains, and a leather duster, exuding a sense of coolness and confidence. Departing from her previous pop-dominated album cycle, Doja Cat's rap skills are on full display, showcasing her comfort and versatility on the mic.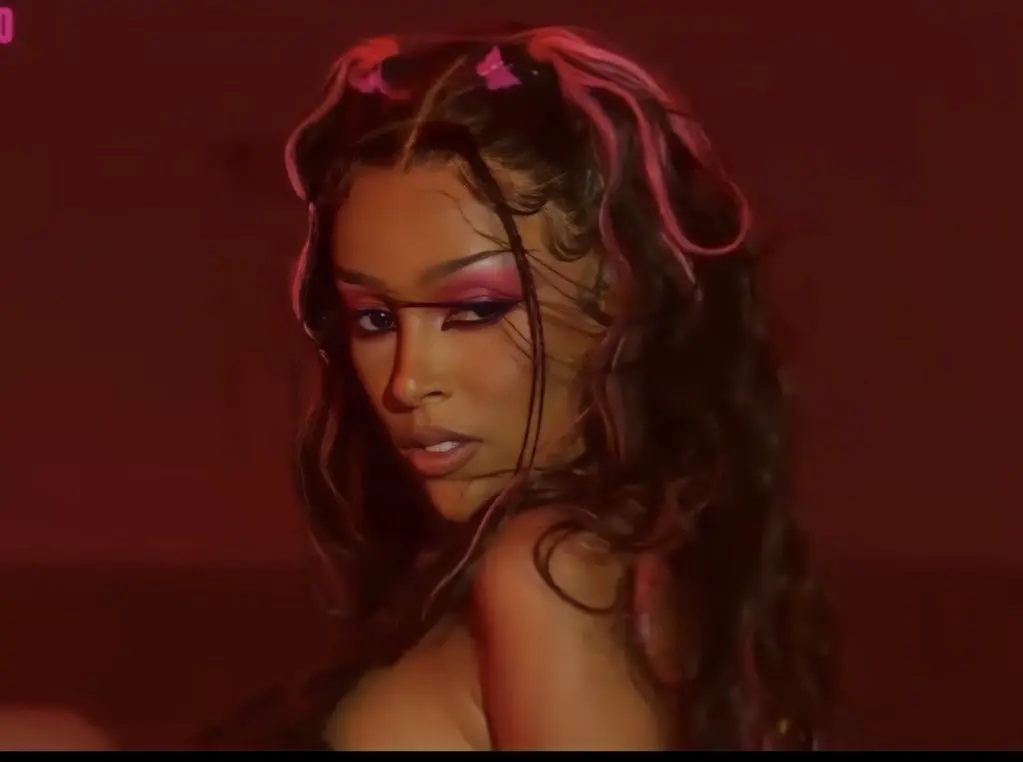 As Doja Cat confidently strolls down a bustling nighttime city street, the video embraces a kaleidoscope of sensual and bizarre visuals. It features encounters with disfigured or masked passersby, emphasizing Doja Cat's disregard for naysayers and her determination to forge her own path. Through her lyrics, she fearlessly addresses those who criticize her appearance, compare her to Nicki Minaj, and overlook her music. In her own words, she declares, "I am not afraid to finally say shit with my chest."
This shift in Doja Cat's artistic direction is further underscored by her recent public statements. She openly expressed dissatisfaction with her previous albums, "Planet Her" (2021) and "Hot Pink" (2019), labeling them as "cash grabs." With her forthcoming project, she plans to return to her roots as a rapper, aiming to create music that resonates with her influences, including Erykah Badu, John Coltrane, and '90s hip-hop.
"Attention" marks Doja Cat's first solo release since her chart-topping album "Planet Her," which featured the hit single "Vegas" from the Elvis soundtrack. She also collaborated with SZA on the remix of "Kill Bill," a song that reached number one on the charts. The release of "Attention" showcases her departure from The Weeknd's "After Hours" stadium tour, as she reflects on redirecting her career trajectory.
The music video for "Attention" also introduces Doja Cat's new persona, Scarlet, as hinted by her enigmatic tweets. The announcement, accompanied by a drop of blood emoji, alludes to the cryptic messages she shared recently, further building intrigue around the song. Doja Cat's transformation and evolution as an artist are evident, and fans eagerly anticipate her forthcoming album.
"Attention" is out now via Kemosabe Records/RCA Records, and while the album's title has shifted from "First of All," Doja Cat plans to reveal the official title soon. Her latest music ventures promise to deliver a fusion of her unique style and the influences that shaped her as an artist. With her bold attitude and talent, Doja Cat continues to captivate audiences, establishing herself as a force to be reckoned with in the music industry.
Be sure to follow @hiphopuntapped for Hip Hop News, Entertainment , Fashion , & Sports.